Reading: Use the same product, but sell it differently
Capture 3-20x the Revenues of A Tool Sale with a Solution Sale. With Almost the Exact Same Core Product.
Recently, I caught up with two great entrepreneurs/CEOs, both doing a few million in ARR and growing quickly. Doing well.
Both had a roughly similar make-up of customers, split between:
Big Customers (Fortune 500 / Global 2000 types) — not many, but each paying a lot;
Small and medium-sized businesses, each paying four or five figures a year; and then
A large group of very small businesses paying very little individually, but a material amount as a group.
More or less like this: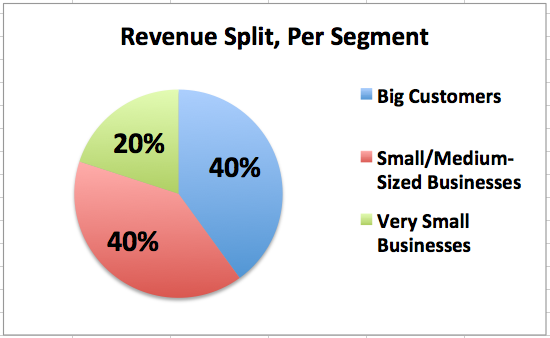 Both asked me where they should place their bets. On the one hand, their largest customers were very important and creating six-figure deals. On the other hand, they weren't the majority of revenue and were a ton of work.

The first showed me his customer list, ranked by revenue. His largest customer, a Fortune 500 leader, was paying him $100,000 a year. I told the CEO I was pretty sure, given the importance of the problem he was solving, and its impact across the enterprise, that this #1 customer could pay them at least $300,000 a year. It's a heck-of-a solution.
The CEO turned to me and nodded his head. "Amazing! In fact," he said, "they told us just the exact same thing the other day. We were worth $300,000."
Boom! That's me, Mr. Clairvoyant.
Actually, it wasn't very hard. Because what he had with his SaaS company is something you may have too with yours. An application that can be used by businesses of every size. And if you do, you'll want to decide if you're selling a Tool — or a Solution.
It's not always obvious which way to go. And the 40/40/20 ratio you see above is surprisingly common. It's basically what we had. It's also basically what WebEx had, back in the day. It's what a lot of apps have that can be used by businesses of all sizes.
But once you are at even $1m in ARR, you'll need to make a primary bet. Which segment do you put as your top priority in marketing? Which segment is the #1 orientation of your sales team?
Of course, if you have multiple segments with 10% or more revenue, you need to service them all in some fashion. Let them atrophy, and you may regret it if 12-24-30 months later you're trying to find a layer to grow your business another 10%! 😉 More on that here.
But one segment has to be #1. And so as you see this segmentation develop, you have to decide. Am I mainly DropBox, or mainly Box? At least for now. Am I mainly like Hubspot, or Mailchimp, or am I Marketo? Because maybe you could go any way at this time.
At the end of the day, I think there are two main considerations:
Understand that you can make 3-20x the revenues on a given enterprise customer with a solution sale vs. a tool. Having been a VP at a Fortune 500 company, I can tell you that getting me as a corporate VP to pay $100k for a web tool was basically impossible. It gets sent to procurement, and by the time you are done, it's hard to get anyone to pay more than $20k for a tool. And there's never any extra budget for a six figure tool to make the troops happier (sadly). But. A solution? Solve my problem around billing? Around customer success? Around CPQ? Well … you can get $20,000,000 if you truly solve a core enterprise business problem. $20 million is what Salesforce gets at many large customers. My point is, it's "easy" (relatively speaking) to get a six-figure contract in larger companies if you solve a real, painful business process problem. Because those problems are very expensive to solve at BigCos. If I'm a VP in the Fortune 500, it costs me $200k-$500k in people costs just to get anything done, and it takes forever. If you solve a true problem for me, and I have a $20m budget … I'll spend 1-2% of that to solve my problem. Easy. But again, ask me to buy another tool? That's not on the list. So the budget here has to be a rounding error if it's just a tool. $5k ACV is fine. $10-15k maybe. For a tool. Above that, don't bother me, I'm a Corporate VP … I've got real problems to solve.
But obviously, you'll probably need a lot more people and processes (and features and software development) to provide a true solution. You can't sell, provision, implement, and support a solution the same way as a tool, even if it's basically the same business process you are addressing. You'll probably need solution architects. You may have to fly there and go on-site. You may need Account Managers and a dedicated Professional Services team and sophisticated Customer Success Managers. You may need a more sophisticated approach to TechOps and NetOps, and DR, and enterprise-grade security. You may need your own CIO to talk to their CIO. And you may need more, and more expensive sales people. DropBox didn't need anyone in sales really until they hit $100m in revenue (then, they decided to add solution sales ;). But Box doubled down here early — and while they got to $100m a little more slowly, they got to their first $1m customer more quickly.
An example of the difference, for us: EchoSign's both a tool that lets you sign a contract on the internet. And it's also sold as a very sophisticated solution that completely automates the process of creating, signing, routing, and managing millions of contracts made up of thousands of dynamic documents automating hundreds of business processes for an entire enterprise. Same core set of functionality, but a very different set of edge features and support. The first is worth about $15 a month. The latter may be worth $1,000,000 a year.
So I'm not telling you which way to go, if you have a pan-enterprise mix of customers.
But what I can tell you is the math says — it's easier to get to $100m in ARR and an IPO on the backs of enterprise customers who can pay $100k+ a shot. You only need 1,000 of them then to get to $100m in ARR, after all. And to get to the six and seven figure price points, you need to sell a solution to a big problem, not just a tool.
In any event, at least … Don't Fear the Solution. Don't Fear The ProServ Team, or the Solution Architect, or the Sales Engineer. Look, deep down, most of us would prefer to sit at our desks or in front of our iPads and just watch the customers come in with no human interaction required. And if you can get 1,000,000 paying customers that way, that's probably the way to go.
But whatever you do, don't do all the work to provide a solution — and just get stuck at a tool price point. That's the kiss of death.
Complete and Continue